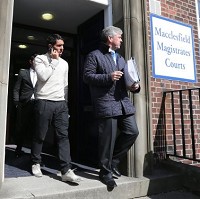 Premier League star Carlos Tevez must undertake 250 hours community service and stay off the road for six months after pleading guilty to motoring offences at Macclesfield Magistrates' Court.
Police were handed information from an anonymous source and picked up the Manchester City striker as he left a Cheshire golf club in his Porsche Cayenne on March 7.
After listening to proceedings through an interpreter, Tevez admitted driving while disqualified and without insurance.
Chair of the bench Elizabeth Depares said in passing sentence: "Mr Tevez, you must realise you are a role model to thousands, if not millions, of fans but nobody is above the law.
"You should not have been driving."
"We have heard that you are sorry and it is now up to you to ensure you will not be brought back to court again."
Ms Depares advised the Argentina international he must complete his community punishment within the year and would not be allowed to drive for six months.
Tevez, who is on £200,000-a-week, was fined £1,000 for driving without insurance, as well as £85 court costs and a £60 victim surcharge.
He can expect a rise in his car insurance premium once he returns to the road.
Copyright Press Association 2013