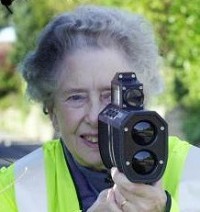 Communities will be allowed to site their own flashing speed-limit signs in a Leicestershire trial that will include volunteers armed with hand-held speed guns.
Community Speed Watch is aimed at raising awareness of the dangers of speeding and at helping manage the problem locally.
Anyone caught speeding by the Mobile Vehicle Activated Signs (VAS) will not be prosecuted, but instead receive a warning letter from the police.
Four parishes will be taking part in the trials: Woodhouse, Woodhouse Eaves, Scapscroft and Thurnby, and Snarestone and Somerby.
Said council spokesman Lesley Pendleton: "County funding for schemes to reduce vehicle speeds is prioritised towards communities experiencing the worst problems.
"As a result, many requests either fall below the criteria for further investigation or have to wait several years before money becomes available for a scheme."
Community Speed Watch is run by Leicestershire County Council and the Leicester, Leicestershire and Rutland Road Safety Partnership with help from Leicestershire Police. It aims to highlight the areas around the county that have problems with speeding.
Copyright © Press Association 2009