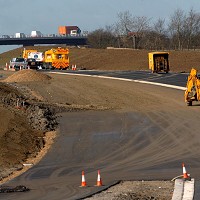 New road projects look set to be accelerated after the launch of a new commission dedicated to improving the country's infrastructure.
The independent National Infrastructure Commission, announced by Chancellor George Osborne, is to begin work immediately, focusing on plans to strengthen links between cities in the North of England.
Large-scale investment in London's transport network will also be examined by the body, which will be led by f ormer Transport Secretary Lord Adonis.
His task will be to produce a report at the start of each five-year parliament containing recommendations of infrastructure projects that governments of all political colours should prioritise.
The recommendations, which will also take in other areas of infrastructure such as railways, homes and power stations, will not be binding, although failure to heed advice could have consequences.
Unveiling his plan in a keynote speech to the Conservative conference in Manchester today, Mr Osborne will say the Commission will take the politics out of major infrastructure decisions nationwide.
He will say it will shake the UK out of the "inertia" which has seen it fail to put in place the infrastructure it needs.
Lord Adonis shares the same sentiment, saying that Britain will grind to a halt without significant improvements to things like energy and transport.
Copyright Press Association 2015