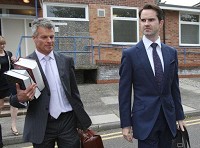 Comedian Jimmy Carr has been cleared of a charge of using a mobile phone while driving, after his solicitor argued he had used it to record a joke, not to make a call.
Lawyer Nick Freeman, otherwise known as Mr Loophole for his ability to exploit legal defences, said Carr was using the dictation setting of his phone, which is not currently illegal.
He argued it was acceptable to use a phone for this purpose as long as it did not affect a person's driving. He added that because Carr has not used to phone to make a call, he had not fallen foul of any legislation.
The prosecution argued that the fact the phone could have been used to make a call was enough for Carr to be found guilty.
However, Mr Freeman's submission of "no case to answer" meant the case was dismissed. After the hearing at Harrow Magistrates' Court he said: "This is not a moment of levity, this is a very serious situation."
In January this year, Carr was caught by police talking into his iPhone while driving his Bentley in Harrow.
Copyright © Press Association 2009