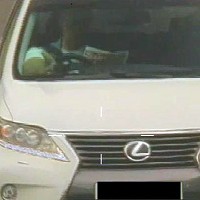 Comedian Roy 'Chubby' Brown is facing a fine after being warned by North Yorkshire Police about careless driving.
Speed cameras snapped the 69-year-old funnyman reading his newspaper while motoring along a main road.
Northallerton magistrates also gave Brown the penalty of four points on his licence, a £30 fine, a £40 victim surcharge, and £40 costs.
The force has posted a video on its website of Brown's offence in his Lexus car on North Yorkshire's A19 road near Crathorne during May 15.
North Yorkshire Police's Dave Brown warned that drivers should surrender their total attention to the road because even a momentary concentration lapse can prove fatal.
Brown, aka Royston Vasey, of East Harsely, Yorkshire, posted his guilty plea to a charge of driving without due care and attention.
Copyright Press Association 2014