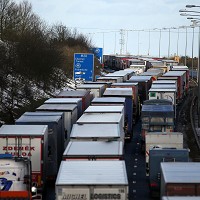 Unusually low temperatures and snowy weather are still causing transport networks to suffer a breakdown, with a large backlog of vehicles waiting to use the Channel Tunnel.
Poor conditions in Belgium and France meant the tunnel had to close on Tuesday, which caused freight traffic too become stranded, with drivers sitting out the unseasonable weather on the M20 in Kent.
On Tuesday night, the motorway became a car park as streams of vehicles queued up in anticipation of the tunnel reopening.
There are now no delays if travelling via the tunnel as it reopened overnight, however the Highways Agency said lorries and heavy good vehicles awaiting ferries from Dover would face a further long wait on Wednesday.
On the M20, junctions 8 and 9 eastbound are closed as Kent Police manages vehicles hoping to enter the tunnel and port. It is thought that the backlog will carry on throughout the morning, according to the Highways Agency.
The Eurostar is back up and running after it was cancelled for the majority of Tuesday, but there are delays of 40 to 80 minutes, National Rail Enquiries indicated. Some services have also been cancelled.
Port of Dover officials said passengers should leave additional time to make journeys to the port because of a traffic backlog.
The cold snap is expected to continue on Wednesday, with temperatures of 2C to 6C, but feeling colder.
Copyright Press Association 2013