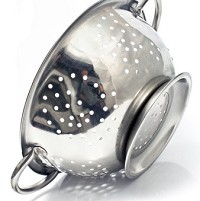 An American woman has successfully got away with wearing a colander "hat" on her driving licence photograph.
The colander failed to strain the patience of Utah transport authority personnel, who say it is OK as long as the face is visible. This follows a spate of around a dozen similar driving licence pictures.
Colander girl Asia Lemmon, 41, dons the headwear as a religious gesture to symbolise her atheist beliefs.
She is part of the Church of the Flying Spaghetti Monster, a movement alternatively called "Pastafarianism". It began nine years ago in protest against Kansas schools educating students in intelligent design, saying it was an alternative choice to evolution.
Ms Lemmon says she is surprised how easily she was allowed to get through wearing the colander hat.
Utah-based director Nannette Rolfe, of the Driver Licence Division's department, says that headgear is allowed provided it is for religious purposes. She says Pastafarianism is a religion now recognised in Utah.
Ms Lemmon, also called Jessica Steinhauser on her driving licence, says she is "proud" of her state for tolerating religious freedom.
Copyright Press Association 2014