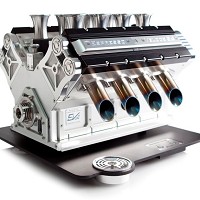 If you're looking for a pricey but perfect gift for a car (and coffee) lover, Espresso Veloce may have the answer.
The manufacturer has crafted a coffee machine that replicates a Formula One engine.
Built to order, the V8 and V12 creations cost between £8,699 and £8,999 and feature more than 90 machined components.
Titanium 'exhaust pipes' act as coffee dispensers and come complete with heated tips that mirror the blue sheen seen on a running engine. Specially-designed piston-like espresso cups are also available to add another dimension.
Weighing in at 23kg, the machine, which works with Nespresso capsules, operates to the tune of a real internal combustion engine and each component has been inspected to conform to tolerances within a tenth of a millimetre.
With a hand-polished finish adding to the high-end product, each machine comes with a plaque and a certificate signed by the creator.
Copyright Press Association 2013