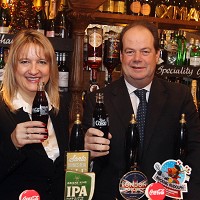 The UK's road safety minister has teamed up with Coca Cola to offer a "bogof" deal to drivers this Christmas.
Launched in London this week by Stephen Hammond and the soft drink giants, the annual Designated Driver campaign will run until December 31, and will incorporate a 'buy one, get one free' promotion. In participating pubs, those drivers resisting alcohol will be able to get two Cokes for the price of one.
Jon Woods, Coca-Cola's Britain and Ireland general manager, highlighted the importance of the designated drivers, who he claimed "provide an amazing service to friends and family. They allow people to have a good night and also help keep roads safe, so everyone can enjoy the Christmas period". He added that Coca-Cola hoped their promotion would encourage even more people to become responsible drivers.
Mr Hammond, explained the background to the campaign and highlighted the risks of irresponsible driving, with personal convictions and the knock-on effect oncar insurance premiums.
Mr Hammond commented: "Our Think! campaign makes it clear that drink- drivers risk losing their licence as well as facing a fine and even a prison sentence. I am pleased that Think! will be teaming up with Coca-Cola and pub chains across the country to reward designated drivers as well as reminding people of the consequences of getting a drink-drive conviction. No-one wants to spend their Christmas in a police cell. My message is clear: Don't drink and drive."
Copyright Press Association 2012