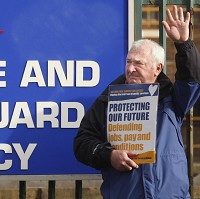 A Government proposal to shut down coastguard stations and driving test centres has provoked workers to take strike action.
Coastguards and driving test examiners have joined forces in protest of the latest round of cost-cutting measures, which would lead to job losses. Public and Commercial Services (PCS) union members at the Maritime and Coastguard Agency and Driving Standards Agency plan to take to the picket line for around two hours.
It is the most recent in a series of walkouts over the past four weeks, as many transport workers protest against other closures planned by ministers. The PCS expressed concerns that around 140 people will be made redundant if some coastguard stations are closed. It added that shutting down driving test centres could also prompt job losses.
"These strikes across our transport services form a major part of our ongoing fight alongside other public sector workers against cuts to pensions, jobs and pay," said PCS general secretary Mark Serwotka.
He has urged the Government to step forward to the negotiating table in a "genuine effort to reach a settlement" before a further breakdown in communication occurs between union members and ministers. It is thought that employees at the Swansea division of the Driver and Vehicle Licensing Agency will also take part in the walkouts today.
Copyright Press Association 2012