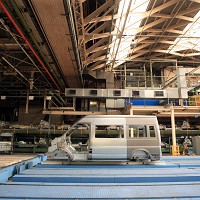 US company Ford will finally cease vehicle production in the UK next week when its Transit factory in Southampton closes.
The closure of the plant will affect 531 employees, and the closure of a tool and stamping operation in Dagenham, Essex on the same date, July 26, will also see a further 750 jobs go.
Union officials described the announcement last October as "devastating" and accused the company of "betrayal". Over a century of Ford production in the UK will now come to an end, and the Transit production that has been based in Southampton for the last 40 years, producing an estimated 2.2 million vehicles, will be moved to Turkey.
Capacity at the new Kocaeli plant is much bigger than in Southampton, with the 28,000 vans produced in the UK last year being dwarfed by the 185,000 expected to come out of Turkey. Ford also describe production costs in Turkey to be "significantly lower" than in the UK.
President of Ford Europe, Middle East and Africa, Stephen Odell stated: "We understand the impact of these restructuring actions on our employees and have provided individual support to ensure that all employees have made fully informed decisions about their future on a voluntary basis. We are re-affirming our commitment to the UK with a major investment in powertrain and engineering, which reinforces the UK's central role in Ford's global powertrain strategy and commercial vehicle engineering."
Copyright Press Association 2013