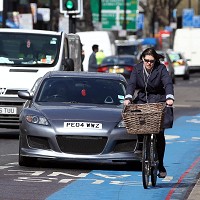 The roads could become a safer place for pedestrians and cyclists in the not-so-distant future, thanks to new technology being developed by General Motors (GM).
The development by Vauxhall's parent company would allow a car to warn the driver if they were too close to these other road users. It would not only reduce the number ofcar insurance claims caused by collisions, but also help save lives.
The technology relies on Wi-Fi Direct, which allows smartphones and other handheld devices to transfer information to each other instead of relying on a fixed access point such as a phone mast.
GM said that it would take at least five years for the technology to be effective enough to make a difference, as it would require large numbers of cyclists and pedestrians to download an app on their smartphone that could then communicate with a similar device in a car.
Meanwhile, the company is also developing technology that will allow Vauxhall cars to drive themselves within the next 10 years.
'Super cruise' will be introduced in GM's Cadillacs in three years' time before being used on other models. "By the end of the decade we will have Vauxhalls capable of driving the driver," a spokesperson said.
A typical Vauxhall Insignia using the technology will be capable of automatic steering, braking and staying in the middle of a lane.
Copyright © Press Association 2012