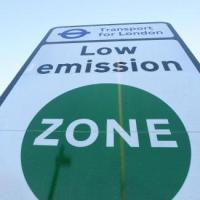 Letting councils throughout the country charge motorists with high-emissions vehicles for driving them in their city centres would be a "recipe for chaos", according to the RAC.
Aimed at improving air quality, the proposal is being made in a report from the Commons' Environment, Food and Rural Affairs (EFRA) select committee.
Last year the Department for Environment, Food and Rural Affairs (Defra) published plans to enable five cities - Birmingham, Leeds, Southampton, Nottingham and Derby - to implement clean air zones that will include charges and restrictions for some vehicles.
Now MPs on the EFRA committee are calling for the plan to be extended across England.
The RAC says while it supports the idea of clean air zones, it believes allowing every council to establish their own would not be workable.
Nick Lyes, the motoring organisation's public affairs manager, says: "The RAC supports the principle of clean air zones as outlined by Defra last year. Those proposals provide local authorities with some flexibility through a tiered structure based on national guidelines.
"However, simply allowing local authorities to create their own zones, which could lead to motorists facing a hotchpotch of charging regimes across the country, would be a recipe for chaos.
"Decisions on how far to go within the tiered national structure should be taken locally, and authorities should give local residents and indeed businesses sufficient time to consider switching their more polluting vehicles to something cleaner.
"Local authorities may also wish to consider trialling electronic signage to inform motorists of air pollution levels. Plans to replace or upgrade older, more polluting buses and taxis should also be fast-tracked."
EFRA committee chairman Neil Parish says air pollution in dozens of English towns and cities exceeds EU limits.
If their communities back such action, he adds, councils covering those areas should be given the power to discourage the worst polluting vehicles from entering town and city centres.
The EFRA committee report estimates up to 50,000 early deaths a year are caused by diseases linked to air pollution.
Copyright Press Association 2016. Motoring News articles do not reflect the RAC's views unless clearly stated.