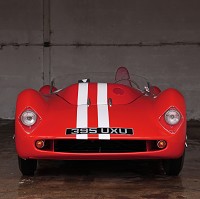 Skoda has been rounding off a year of celebrations to mark its 120th birthday by bringing together a collection of classic cars.
The event was staged at Bicester Heritage in Oxfordshire with Skoda UK giving motoring journalists an opportunity to get behind the wheel of some of the vehicles on show.
This included a 1100 OHC Roadster - one of only two still known to be in existence - and a 1929 442 four-door saloon. Among the other historic cars on show were a 1964 Octavia, a Felicia manufactured in 1963 and a sporty 1977 110R.
The collection also included a few more modern models, including a 1992 Favorit with under 2,500 miles on the clock and a 2004 Octavia vRS.
Skoda was founded in 1885 as a result of a merger between Czech engineering company Pizen Skodova, Vaclav Laurin - a car and motorcycle manufacturer - and bookseller Vaclav Klement. In 2000 Skoda became a wholly owned subsidiary of the Volkswagen Group.
Copyright Press Association 2015