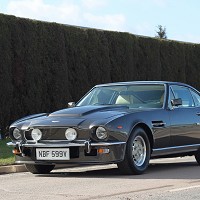 Dozens of classic motors are to be sold at the upcoming Practical Classics Restoration Show.
A 1980 Aston Martin V8 and a 1988 Ferrari Testarossa have recently been added to the bill by Silverstone Auctions, with both estimated to fetch staggering sums of money when they go under the hammer.
The sale list at the NEC in Birmingham this weekend features a wide range of iconic cars that have captured the hearts of drivers down the years, from exceptional restoration projects to intriguing barn finds.
Auctioneers expect a 1959 Jaguar XK150 S to fetch between £52,000 and £60,000, while a BMW Z8 - like the one featured in James Bond: The World Is Not Enough - could top that with an estimate of up to £95,000.
They also think the 1980 Aston Martin V8 will attract lots of attention, slapping a £90,000 valuation on it, plus the 1988 Ferrari Testarossa, for which the market is definitely rising, could go for £90,000 as well.
One of the other standout lots is a 1976 Daimler Sovereign 4.2, previously owned by Major Hugh Skillen, who was a highly-decorated army major and closely associated with Bletchley Park and the Enigma code breaking saga, which is estimated to sell in the region of £14,000 to £16,000.
Copyright Press Association 2015