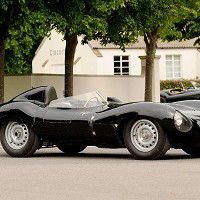 One of the finest collections of sports racing cars ever to be assembled is expected to make £17 million when it goes under the hammer later this year.
Belonging to motorsport-loving Irvine Laidlaw, the seven classics include his 1955, ex-Works and ex-Ecurie Ecosse Jaguar D-Type, which was driven by Duncan Hamilton, Paul Frere and Peter Sutcliffe.
The 70-year-old Scottish businessman, who is known for his love of fast cars, has decided to auction off some of his prized possessions at RM Auctions' London sale in September.
Valuation specialists expect the Jaguar, which was raced at Silverstone and the Nurburgring, to sell for around £6 million - making it one of the most expensive British cars ever sold at a public sale.
A 1958 Maserati 250S, which was driven by motorsport icons Carroll Shelby and Jim Hall, is being offered as well with an estimate of between £2.5 million and £3 million
Lord Laidlaw is also parting ways with his Maserati Tipo 61 'Birdcage', a 1960 racing car which sell for around £2.75 million, and his 1967 Ferrari 275 GTB/C which has an estimate of £3 million.
Copyright Press Association 2013
Caption: The Jaguar D-Type is one of the most sought after cars among collectors