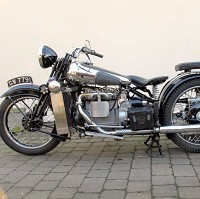 Classic pieces of motoring history are going under the hammer at an auction of cars, motorcycles and other items in Cambridgeshire.
A 1955 Mercedes Benz 300SL "Gullwing" is expected to make the most money among the lots on offer at the auction at the Imperial War Museum, Duxford, with bidding likely to reach as high as £600,000.
Fans of British motoring history could splash out £180,000 on a one-off 1990 Jaguar XJ220 developmental prototype, but there will be something for all motoring tastes and bank balances among the 1,000 expected visitors, as some items of automobilia, such as enamel signs and oil and petrol cans could be picked up for £20, according to auctioneers H&H Classics.
The auctioneers will take bids for more than 90 cars, including a 1915 Sunbeam 20hp Tourer, which could make as much as £60,000.
A breakdown of auction offerings with two wheels reveals a Penny Farthing and a Velocipede, also known as a "boneshaker", both belonging to the Bamber Automobilia Collection. These could be snapped up for £1,000, but if you prefer a little more power, a 1932 Brough Superior BS4 is available among the 60 motorbikes on offer. It is one of just 10 built by the manufacturer in 1932.
Copyright Press Association 2013