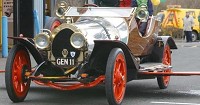 The "magical" car Chitty Chitty Bang Bang has been banned from a street parade for not having a valid MoT certificate.
The classic motor, one of the five used in the 1968 Hollywood film Chitty Chitty Bang Bang, is not allowed to feature in the Lord Mayor of Norwich's Street Procession.
John Bultitude, a spokesman for Norwich Theatre Royal, which is organising the show, said: "Chitty Chitty Bang Bang was set to give the celebrations a flying start as one of the attractions of the annual event but we have been forced to withdraw the car at the 11th hour.
"It just proved too difficult to obtain an MoT, get the necessary permissions and insure the car despite several weeks of effort.
"It would have been easier if Chitty really did fly as a pilot's licence only takes a minimum of 45 hours to obtain."
However, the car will be displayed on the theatre's open day on August 8 ahead of the show's run from August 18 to September 5.
Harry Mitchell, head of news for Norfolk Police, said: "All vehicles that take part in the Lord Mayor's Procession have to be fully roadworthy with valid documentation.
"The Chitty Chitty Bang Bang car does not have a valid MoT certificate and therefore breaches regulations."
Copyright © Press Association 2009