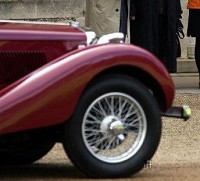 Owners of classic cars may be losing out by scrapping them for new ones under the Government's 'cash for bangers' scheme.
Organisers of the Classic Motor Show are advising owners of 60s, 70s, 80s and even 90s cars to research the value of their vehicle before trading them in.
A spokesperson said: "While the scrappage scheme might be an effective way of stimulating new car sales, it's likely that some cars finding their way into the scheme might actually be worth more than the scrappage value offered - and not just in monetary value.
"It's definitely worth anyone who's considering using the scheme to take a close look at prices on classic car related websites first."
Collectors say that the environmental impact of building new cars cancels out or even outweighs the benefits of driving a newer, more economical model.
The spokesperson continued: "Before chopping it in, see if there is a club for your marquee or model and see if anyone in the club will give you the scrappage value or more for it."
Copyright © Press Association 2009