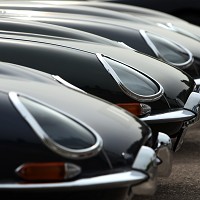 Classic cars and vintage vehicles have sold for more than £1 million at a highly anticipated auction.
The British vehicles, from a range of UK manufacturers, sold for a total of £1.4 million at the Race Retro and Classic Car sale.
An elegant 1967 Aston Martin DB6 and 1952 Land Rover 80 Series 1 were among the stars of the auction.
They sold for a premium inclusive price of £123,750 and £32,850 respectively.
However one of the items that fetched the highest price was the 1953 Connaught AL10 Historic Grand Prix Car.
The competition car, which was driven by racing legends including Roy Salvadori, John Coombs, Kenneth McAlpine, Ron Flockhart and Bill Whitehouse, was auctioned for £196,875.
The event saw 64% of the vehicles auctioned off to new owners with nine other cars also sold.
Drivers should ensure they take out adequatecar insurance to protect their classic vehicle.
Copyright Press Association 2013