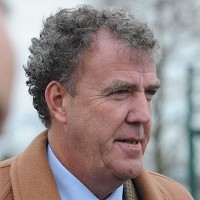 Jeremy Clarkson has raked in millions of pounds this year thanks to the soaring success of popular petrol head show Top Gear.
BBC Worldwide - the commercial arm of the corporation - has revealed that it picked up a dividend of £4.5 million this year from a company called Bedder 6.
That firm, which was initially set up by Clarkson and Top Gear executive producer Andy Wilman, is registered at the west London base of BBC Worldwide.
Clarkson reportedly owns 30% of the firm, with the BBC controlling 50%, which would entitle the presenter to dividend of around £2.7m.
Combined with the salary he already picks up for fronting the BBC's flagship show, this means Clarkson takes home more than £3 million a year and is the corporation's top earner.
Top Gear has become one of the BBC's biggest commercial successes, spawning huge DVD sales and popular live shows.
The BBC's report revealed that Top Gear Live was enjoyed by its "largest" ever audience in December as more than 10,000 fans saw the show in Perth. Meanwhile, "local versions" are now being shown in China and South Korea.
In 2011 the BBC had to call a halt to plans to make Top Gear satnavs using Clarkson's voice after it emerged that this would be in breach of editorial guidelines.
Copyright Press Association 2012