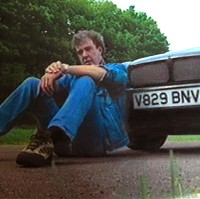 A Jaguar once owned by Top Gear star Jeremy Clarkson is expected to generate plenty of interest at an auction later this month.
The 1999 Jaguar XJR was never registered to Clarkson, but it was mentioned frequently in his newspaper motoring columns, with the star often moaning about having to keep it clean.
The supercharged car, which has a guide price of £2,500 to £4,500, is a rare model so the added lure of its former owner may make bidding even more fierce.
The car will be sold at The King's Lynn auction house's classic sale on Saturday 24th August. The auction house already has a connection to Clarkson, having been the location where he and his co-stars James May and Richard Hammond found cars for a classic rally.
More details of the car and the other lots for auction can be found at www.angliacarauctions.co.uk.
Other lots of note include a 1960 Porsche 356B Roadster, a 1958 Porsche 356A Coupe, a 1969 LHD Porsche 911 T and a 1960 Porsche 356B Cabriolet.
Copyright Press Association 2013