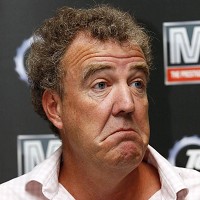 Jeremy Clarkson is off the hook after been cleared of breaching the broadcasting code by watchdog Ofcom.
The Top Gear presenter got into hot water after comparing a Japanese car to people with growths on their faces during an episode of the show aired in February.
He slurred his speech in what appeared to be an impression of the elephant man while talking about a camper van. Co-host Rich Hammond then referred to the vehicle as an "elephant car".
Ofcom received 41 complaints from outraged viewers. But despite this, the broadcasting watchdog cleared Clarkson of breaching the code.
The TV presenter is no stranger to controversy. Recently he was forced to apologise for telling BBC1's The One Show that striking workers should be shot, while he faced a tirade from mental health charities after labelling people who throw themselves under trains as "selfish".
This latest incident heaps more spotlight on the much loved motoring show that has also received its fair share of criticism of late.
Earlier this year, Indian diplomats complained about the programme's India special after Clarkson said that a car fitted with a toilet in the boot was "perfect for India because everyone who comes here gets the trots".
Copyright Press Association 2012