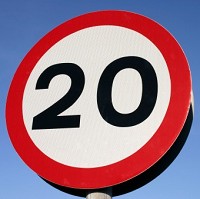 The vast majority of Birmingham's roads could soon carry 20mph speed limits if a new scheme is given the green light.
Birmingham City Council has begun the consultation process into plans to lower the speed limits on 90% of its roads with its £7 million 20 is Plenty initiative.
It believes the scheme would make the city's streets safer and improve the sustainability of its transport network.
Major routes would keep their current speed limits but the council wants to impose the lower limit on areas around shopping centres, schools, leisure facilities, hospitals and public transport hubs.
It is thought the lower speed limit would result in fewer accidents and injuries.
Birmingham's Cabinet Member for Development, Jobs and Skills, Councillor Tahir Ali, says the city is keen to improve its transport network but he is urging everyone who lives and works in Birmingham to have their say as they will all be affected by the change.
The consultation is set to close on November 29 and a report on the findings will be delivered to city councillors at the beginning of 2014.
Copyright Press Association 2013