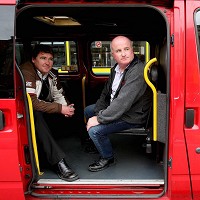 A two-day protest that saw taxi drivers block off a swathe of central Dublin in a protest over conditions they claim have driven workers to suicide has been ended.
The blockade on O'Connell Street was called off when the newly established Irish Taxi Council was allowed to meet Department of Transport officials and discuss their concerns.
Frank Byrne, the president of the organisation, said they had received assurances on the areas which drivers would work in, and an end to "double-jobbing" - where full-time workers also work as taxi drivers.
Mr Byrne added they were sorry for the disruption caused to commuters and businesses since Thursday morning but insisted they were forced to take the action after drivers depressed at their working conditions took their own lives.
"We apologise unconditionally to the travelling public and the traders for the inconvenience caused," he said. "We hope that they would understand that our drivers were driven to a level despair that they felt they had no option but to protest in that fashion."
Copyright © Press Association 2009