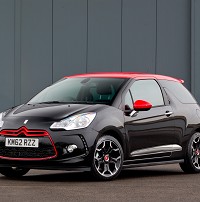 The new Citro'n DS3 Red range has been launched in time for the start of the New Year, with drivers of the new model sure to be the envy of road users.
Launched as a special edition, the vehicles are based on Citro'n's DS3 D Style and Dsport models, but with a lot more features and bold colours to get noticed.
Citro'n offer Polar White, Perla Nera Black, both with 'Sport Red' roofs, with prices starting from £15,655. Just addcar insurance and drivers are ready to roll.
Customers of the DS3 Red model can choose from a range of features, including white or black Ashera alloy wheels, USB connection and Bluetooth¨, while the vehicle is fitted with a high-spec music system.
Those who like to think big when buying a car, will hit the road in a lap of luxury with the DS3 Red, with its Red Touch interior and exterior pack, while customers can have either a Vti 120 petrol engine or an e-HDi 9- Airdream diesel engine.
Copyright Press Association 2013