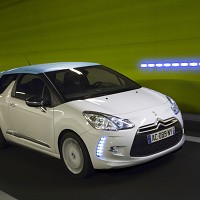 French firm Citro'n has announced a series of offers in the DS3 hatchback and other models in the range, in order to celebrate it being the brand's best-selling car in the UK.
The DS3 hatchback is now available from £199 per month on Elect 4 Personal Lease, with up to £1,500 as a deposit contribution on selected models with Elect 3 PCP & Elect 4 finance, and three years' free servicing and roadside assistance.
The recently-revised Citro'n C1 city car now costs just £6,995, including a £1,000 Citro'n reward. Alternatively, it is available from £99 per month on Elect 4 Personal Lease with a bonus of a year's free insurance for customers aged 21 to 75 on VTR and Connexion models when funded using Elect 3 or Elect 4 finance.
The C3 model starts at £9,995 including a £1,995 Citro'n reward. It is also available from £129 per month with Elect 4 Personal Lease. In addition, it comes with no VAT plus 0% APR for three years, with a 30% minimum deposit available on VTR+ and Exclusive models. Three years' free servicing and a roadside assistance package is also included on all models ordered between August 1 and September 7 and delivered by September 30.
Copyright Press Association 2012