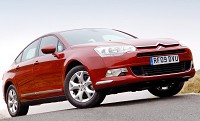 A number of greener revisions to Citreon's popular mid-size C5 have been announced by the French car maker.
The old 2.0i 16V 143 horsepower engine has been replaced by a BMW co-developed 1.6i 16V THP 155 horsepower petrol engine, which works with a six-speed manual gearbox. It is now available in the VTR+ NAV Saloon.
The 2.0HDi 16V 160 horsepower diesel has taken the place of the 2.0HDi 16V 140 and the 2.2HDi 173 horsepower engines. The new unit can be paired with either a six-speed manual or automatic gearbox on the Saloon and Tourer models.
A new bluetooth system with USB box is now included as standard equipment on Exclusive models of the C5's SX trim level, which has been renamed VTR.
The bluetooth system allows drivers to stay in touch with work or with friends while on the move and the USB connection allows portable media players to be connected to the car's audio system.
Copyright © Press Association 2009