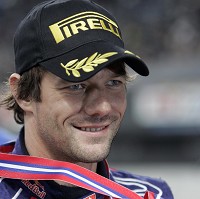 Citroen has announced it will compete in next year's World Touring Car Championship (WTCC), with new team member Sebastien Loeb excited by the prospect of representing the French manufacturer.
Citroen chief executive Frederic Banzet has revealed the firm has spent recent months exploring the opportunity to enter the championship.
"The WTCC is based on several aspects that are essential to Citroen: extensive media coverage, regulations that keep costs down and a genuinely global race calendar," he said.
"Our involvement in this championship will also help us to develop the brand in promising, growth markets such as China, Russia and South America."
Loeb was on the lookout for a fresh challenge after enjoying unrivalled success in rallying. The nine-time World Rally champion is looking forward to the start of testing in his new car.
"I have used this transitional year to try out various experiences and to improve my track driving skills. I don't expect to win straight away, but I am determined to get there one day," he said.
Citroen also revealed it will again feature in the World Rally Championship in some capacity in 2014.
Copyright Press Association 2013