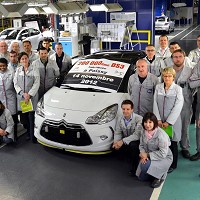 The 200,000th DS3 has rolled off Citroen's production line at its Poissy plant in France, the company has announced.
The DS3 was launched in Europe in March 2010 and was the first of the French car makers distinctive DS models.
The car is now available across the global, having launched in Russia later in 2010, Argentina in 2011 and Brazil and China this year.
During the last few years the DS3 has received a number of awards including Top Gear Magazine 'Car of the Year' for 2010 and Diesel Car Magazine 'Car of the Year' in 2011.
As well as the main DS3 models Citroen has also produced a number of attention grabbing special editions, including the DS3 by Orla Kiely, the DS3 Racing and the luxury DS3 Ultra Prestige.
In addition, Citroen Racing has had success and upped the model's appeal with the DS3 WRC rally car.
Next year Citroen is planning to launch a new soft-top model, the DS3 Cabrio.
Copyright © Press Association 2012