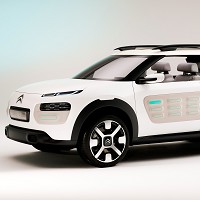 Citroen is set to unveil the C4 Cactus - its new family hatchback tipped to rival the VW Golf and Ford Focus.
The Cactus will be unveiled in concept form at Frankfurt and the finished article is due to arrive in showrooms from next June.
It signals a shift towards a greater emphasis on style for the company's C range of cars, inspired by the success of Citroen's more upmarket DS range.
The Cactus features just two pedals while three buttons - Drive, Neutral and Reverse - take the place of a conventional gear stick, though there will be a manual option.
A central touchscreen incorporating most of the car's functions means the dashboard offers a clean and sparse design, and this simplicity is continued on the exterior with touch pads on top of the doors taking the place of standard door handles.
The car features a safety innovation known as the Airbump, which is a system of air-filled blisters on the side of the car and around the headlights instead of a conventional bumper.
Car insurance customers wanting to get their hands on the new model will unfortunately have to wait until 2014 - but they can at least get a look at the concept version at its unveiling in Frankfurt.
Mark Lloyd, the range manager responsible for shaping future Citro'n products, said: "This car is a manifesto for the future intent of the C-line."
Copyright © Press Association 2013