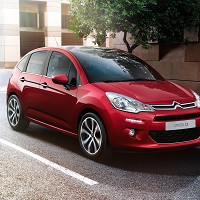 Citroen has announced plans to unveil its new C3 at the Geneva motor show next month.
The French car manufacturer is to showcase its new 1.0-litre petrol C3 at the Swiss event on Tuesday 5 March before it arrives on British forecourts in the summer.
The latest model shares several features with its predecessor, although the 2013 version will come with a fuel-efficient 1.0 VTi 68 three-cylinder petrol engine.
The new petrol engine boasts carbon emissions of just 99g/km and average fuel consumption of around 65 mpg.
Features from the previous C3 to have survived the remodelling include the 'Zenith' extended windscreen, although early reports suggest this will not come as standard in all trim levels.
Modern technology is broadly represented in the form of a reversing camera equipped with parking sensors, an RD4 MP3-compatible audio system, Bluetooth connectivity and an in-built satnav.
The C3 also comes with four different diesel engines with low emissions of 87g/km and an extended fuel economy of up to 70mpg.
Copyright Press Association 2013