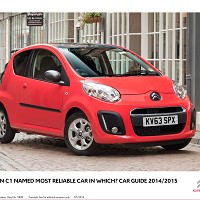 The Citroen C1 has been crowned the most reliable car in a major new survey.
Owners with models under three years old have to pay an average of under 50p on repair bills every year, the poll found.
The first-gen French model's reliability means the army of 780,000 owners it has accrued since 2005 will have been less likely to call on their breakdown cover for unforeseen mechanical problems.
The Which? Car Guide 2014/15 has bestowed the accolade after judging a total of 283 models in the UK's largest satisfaction and reliability poll of 49,023 drivers.
The Citroen model tops the reliability ratings with 99.3% for motors no more than three years of age.
Not one C1 driver was left carless because of faults, while their typical yearly repair cost stands at a measly 49p.
And the joy for Citroen fans doesn't end there. The second-gen C1 model was introduced on July 1.
Copyright Press Association 2014