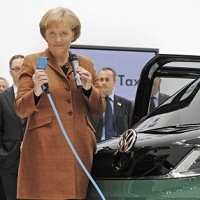 Eight cities have been shortlisted to share part of a £20 million Government kitty to fund the introduction of more plug-in taxis.
Councils in Birmingham, Cambridge, Coventry, Dundee, Nottingham, Oxford and Sheffield are all in the frame, along with West Yorkshire's combined authority.
Thursday's announcement means the eight candidates will get a £30,000 Government-supported feasibility study into offering more eco-friendly travel schemes in their region.
The Energy Saving trust (EST) will independently carry these out and the winning bids will be named next April.
But just because a local authority has not made it onto the shortlist does not mean to say it cannot qualify for a portion of the fund. Such councils will just have to pay for their own viability study.
The fact-finding studies are being set up to discover how local councils could use such cash to install an electric taxi plug-in point infrastructure in a bid to reduce upfront cab costs.
London's environmental advisors are already urging Boris Johnson to bring in zero-emission taxis to coincide with the Mayor's plans to introduce Ultra-Low Emission Zones (ULEZ) in the capital by 2020.
London's current taxi and bus network, which runs almost exclusively on diesel engines, is believed to be responsible for vast nitrogen oxide (NO2) volumes which pollute the capital's air.
The latest initiative ties in with the Government's aim of having an exclusively zero-emission van and car network by the middle of the century.
Andrew Jones, the Transport Minister, said that plug-in taxis beat traditional counterparts in helping to save the environment and taxpayers' money.
He said such thinking is behind the Government's £500 million investment in affordable low-emission vehicles between now and 2020.
Mr Jones added that ministers are supporting the city applicants' greener technology ambition through a possible share of an eco-taxi pot worth £20 million.
EST chief executive Philip Sellwood said the Trust is relishing the prospect of working with the Government to accelerate the "pioneering scheme" and see the massive ways it will change businesses for the better.
He said such a change will benefit a diverse workforce ranging from carmakers to charge-point installers and from local network operators to licensing authorities throughout Britain.
Copyright Press Association 2015