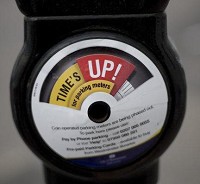 While many cities are driving motorists up the wall, Telford in Shropshire is the UK's most car-loving town.
According to a Virgin Money survey, this friendly automotive haven gets top marks for petrol prices, parking and speed cameras (lack of).
Said Virgin`s Grant Bather: "Not all towns and cities are the same, and many councils do their best to ensure drivers aren't treated like second-class citizens.
"Cars shouldn't rule the road, but motorists' views need to be taken into consideration."
Tell that to London, Bristol, Manchester, Edinburgh and Oxford, where drivers despair at finding somewhere to park that won`t break the bank.
Best for cheap parking are Milton Keynes in Buckinghamshire, Luton in Bedfordshire, West Bromwich and Dudley in the West Midlands and Sunderland.
And those with the most car parks per 1,000 people are Aberdeen, Blackpool, Poole, Gloucester - and Telford.
Meanwhile, drivers are least likely to have their cars stolen in Eastbourne, Poole, Colchester and Brighton and Hove, and are most at risk in Glasgow, Edinburgh, Cardiff and Slough in Berkshire.
Copyright © Press Association 2009