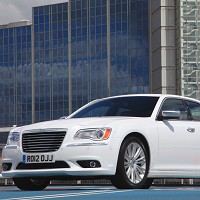 New models from car manufacturing giant Chrysler will be unveiled at London's Canary Wharf next weekend at the UK's largest auto show.
The new 300C executive saloon model and the Jeep Grand Cherokee SRT will be shown for the first time in the UK at the Motorexpo show.
There will be a full Chrysler show with the new saloons as the focal point, and a team of car specialists will also be on hand to inform customers on what they need to know, as well as full hospitality facilities.
The new Chrysler 300C, which is released in the UK on June 14, is larger and safer than its predecessor as well as being more luxurious and stronger.
It will be available in two differing styles, Limited and Executive. This will give customers the chance to purchase a more unique version; the starting price is £35,995 OTR.
The show will also be displaying the new Jeep Grand Cherokee SRT which its makers have boasted is the fastest and most powerful jeep ever built.
The SRT can shoot up to 62mph in just five seconds and has a maximum speed of 160mph; it is available at £58,995 OTR.
Copyright © Press Association 2012