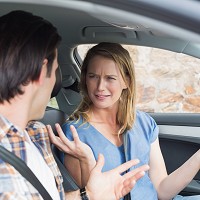 One in four people will have an argument with a family member in the car this Christmas, research by RAC Cars reveals.
Three in five will argue with their spouse or partner, while one in 10 will have a row with their children. A quarter will squabble with both their partner and the kids.
Around 16 million car journeys to visit family and friends are expected over the festive period, of which more than four million will result in a festive 'cargument'.
"Christmas is a precious time of the year and an opportunity to spend quality time with family and loved-ones, but for some it is also loaded with stress and frustration which can boil over into a verbal braw," says RAC Cars spokeswoman Hannah Darby.
"The anticipation of spending time with family and the in-laws appears to lead many of us to get stressed and have arguments with our nearest and dearest.
"The best thing to do is avoid travelling at the busiest times - which should see you dodge lengthy delays - and it is always good to have an emergency, secret code you share with your partner for an early departure if family tensions are getting on top of you."
"Modern cars are far more reliable so should not add to the stress by breaking down, but it is always wise to do some simple checks like the oil, coolant and washer water. If you are on a long journey consider taking a DVD to keep the kids entertained and plan where and when you will stop and swap drivers."
Visiting family (55%) is the main reason drivers and passengers get hot under the collar at Christmas, followed by lengthy traffic delays (46%) and getting lost (45%).
Setting off too late (40%) and forgetting something or leaving a present behind (28%) also rank highly.
A third of people always make up before they get out of the car at their destination, while a further two-thirds say they sometimes do. However, a belligerent one in 25 admit they never make up after a cargument.
Copyright Press Association 2015. Motoring News articles do not reflect the RAC's views unless clearly stated.