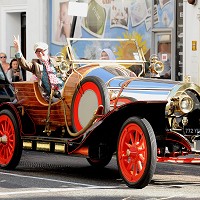 New Top Gear host Chris Evans is auctioning off 13 cars from his prized personal collection in the name of charity.
His replica Chitty Chitty Bang Bang car is one of lots going under the hammer at the Goodwood Revival next month, along with Ferraris, Jaguars and a host of other classics that have a special place in automotive history.
The cars could fetch in the region of £11 million, while Evans is also sending 140 lots of auto-memorabilia to the sale.
A reported $805,000 (£516,171) was paid for the original Chitty Chitty Bang Bang car when it was auctioned in California in 2011.
The replica of the 1936 motor used in the 1968 children's film is expected to sell for up to £350,000.
But this is just a drop in the ocean compared to three of the Ferraris, which are worth a collective £7 million.
Evans' rare Ferrari 275 GTB/6C with aluminium bodywork is predicted to attract a wealth of interest and fetch £2.9 million, while his very collectible Ferrari 365 GTS/4 "Daytona" Spider is estimated to make £2.6 million.
His Ferrari 250 GT/L "Lusso" - another collectors' item - is valued at £1.6 million.
The two other Ferraris from the Evans' stable to be sold off are a 250 GT SWB replica and 328 GTS.
A 1949 Jaguar XK120 with rare alloy bodywork that carries an estimate of £325,000 is also on the exclusive lot list, along with a replica 1967 Jaguar XKSS made by Lynx that comes with a reserve price of £325,000.
The least expensive car is a 1983 Fiat 127 Abarth, priced at a mere £10,000.
The auction will take place at the Goodwood Revival on September 12. Part of the proceeds will be donated to Children in Need.
Copyright Press Association 2015
https://grrc.goodwood.com/section/goodwood-revival/#5vBgAwllYtEOJPhp.97 (Goodwood Revival)