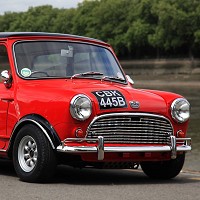 A classic Mini previously owned by Radio 2 DJ Chris Evans is going under the hammer to raise money for Children in Need.
The car is expected to raise up to £8,000 when it is sold at auction during the CarFest North festival, organised by Evans in Cheshire.
Motoring fan Evans was reportedly fond of the 1964 Austin Mini Mk I, which ironically has no radio.
The car was rebuilt 10 years ago by specialists at a garage in Kent, where it was given a series of upgrades including a new 998cc engine, an improved exhaust system, disc brakes and an original British Leyland straight cut gearbox.
Its more recent owner stored the car in a garage with controlled temperatures to help prevent corrosion, and its next buyer will no doubt want to look at specialist classic car insurance to ensure the vehicle remains in top condition.
A number of cars will be sold at the festival, which takes place at Cheshire's Oulton Park on August 4. All the lots on sale can be viewed on the Silverstone Auctions website .
Copyright Press Association 2013