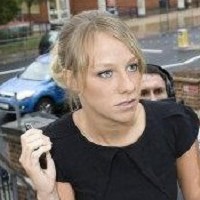 Chloe Madeley, the daughter of TV`s Richard and Judy, has been disqualified from driving for 20 months after pleading guilty to drink-driving at Hendon Magistrates` Court.
Ms Madeley`s car overturned after clipping another vehicle in a crash in Barnet, north London, in the early hours of August 16. The 22-year-old was arrested after being found to be twice over the legal limit, having earlier drunk two cocktails.
The court heard that Ms Madeley, of Wildwood Road, near Hampstead Heath in north London, had returned home after meeting friends, but left the house in her car as she "urgently required the services of a 24-hour chemist in relation to female products".
"It's a serious incident of drink driving. You exposed the public, including yourself, to considerable danger. There was an accident. Thankfully nobody was injured," said chair of the bench Clive Lewisohn, sentencing Ms Madeley. "We find that there is no mitigation whatsoever for your driving with excess alcohol on this occasion."
Ms Madeley war ordered to pay a total of £435, including £70 prosecution costs and £15 towards victims of crime. Her 20-month ban commenced immediately. She left the court in a taxi.
Copyright © Press Association 2009