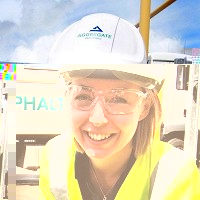 Road building could be made greener by replacing bitumen with recycled chip fat, a company has said.
A way of using vegetable oil instead of crude oil-composed bitumen has been developed by Aggregate Industries at a time when 1.25 million tons of bitumen is used every year for road building.
The discovery was made by the Leicester-based company at its testing plant in Newark, Nottinghamshire.
Once patented, Aggregate plans to use the newly-developed asphalt, which it say will help the environment, on roads across the country.
The idea was invented by Helen Bailey, 25, research manager at Aggregate Industries, who was awarded the Fiona and Nicholas Hawley Excellence in Environmental Engineering Award 2009 by The Worshipful Company of Engineers for her work.
Ms Bailey said: "I wanted to find an alternative with the same key properties as bitumen in the asphalt mix, using a waste product readily available within the UK.
"The solution I developed complies with UK Standards for asphalt whilst reducing the carbon footprint in resultant products.
"I was delighted to find that the waste fat produced by cooking one of the nation's favourite dishes can be used to hold together our roads."
Copyright © Press Association 2009