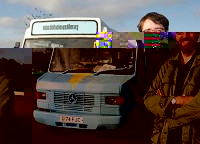 Adventurer and environmentalist Andy Pag has reached Asia after leaving London on September 19 in a bus powered only by chip fat.
The 34-year-old from London is trying to travel around the world. He arrived at Turkey in the recycled scrapyard bus after crossing the Istanbul Strait at the weekend.
Mr Pag has so far driven more than 3,000 miles through France, Switzerland, Italy, Croatia, the Balkans and Greece to reach Turkey.
En route he has collected more than 500 litres of chip fat and biodiesel made from used cooking oil.
Mr Pag said: "Crossing the Bosphorus is a real milestone. I'm actually quite relieved to have made it this far, but it's only going to get tougher to find used cooking oil to fuel the bus from here on."
Saying that the bus is consuming more fuel than expected he added: "It's a bad example of a type of bus that was never particularly efficient when new."
During the journey he is reporting on how people around the world are addressing the need to use low carbon energy through his website. He has set a CO2 emission target of two tonnes for his own 12-month journey.
Copyright © Press Association 2009