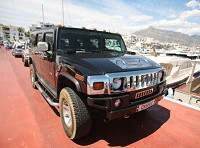 Bankrupt US car giant General Motors is reportedly selling its Hummer brand to a Chinese company in an attempt to reorganise business.
The carmaker is said to have signed a tentative agreement to sell its Hummer sport utility vehicles unit to China`s Sichuan Tengzhong Heavy Industrial Machinery.
Tengzhong is a privately held maker of road, construction and energy industry equipment based in the Chinese province of Sichuan.
The deal is part of GM`s plan to restructure itself by shedding its weaker brands after filing for bankruptcy with debts of $172bn (£104bn). The firm is planning to sell off 14 plants and three parts factory in the process.
As many as 20,000 people are expected to lose their jobs in the rebuilding of the firm. The carmaker, however, hopes that the new deal will save about 3,000 jobs in the US.
GM also said that it will trim its operations, leaving a core business based around its most profitable assets.
Copyright © Press Association 2009