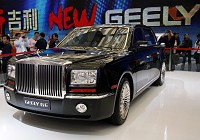 Chinese car manufacturer Geely has said its parent group may bid for Ford Motor's Volvo operation.
The independent carmaker is the latest Chinese firm to take interest in the Swedish manufacturer. State-owned Beijing Automotive Industry Holding was earlier tipped as a potential bidder for Volvo.
Geely had previously denied that it was planning to make an offer, but Weng Xiaodong, director of the company's board of directors office, has now confirmed the reports.
Gui Shengyue, chief executive of the Hangzhou-based firm, said: "Geely is an ambitious company and given current global changes, we really cannot miss out on this move."
He was quoted as saying by the Caijin financial magazine that the bid was likely to be launched by Geely's parent company and not its listed unit.
The parent firm could form an alliance with either a government entity or some other institutional investor because 90% of Geely's capital is tied up in its listed company, the magazine reported.
Copyright © Press Association 2009