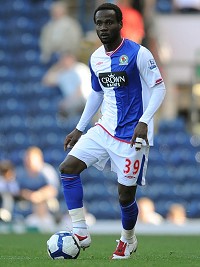 Blackburn Rovers footballer Pascal Chimbonda has been banned from driving for six months after he was found guilty of speeding.
The French full-back was caught speeding, once in October last year, and later in January this year.
Chimbonda was not present at the Northallerton Magistrates Court hearing, which was supposed to be held earlier this month, but adjourned to this week at his request.
The footballer was ordered to pay £2,185 in fines and court costs for the two offences.
Mr Chimbonda, of Loughton, Essex, was speeding at 82mph in a 70mph zone in a black Cadillac saloon car on the A1 near Newark on October 7 last year.
Initially, he pleaded not guilty to the charge at Grantham Magistrates Court.
Northallerton Magistrates Court was told the Premier League footballer had more than 12 points on his licence, and under the "totting up" rules, was over the threshold for a driving ban.
Chimbonda, 30, was also caught speeding at 91mph in a 70mph zone in his Porsche Cayenne car in January this year on the A19 near Thirsk, North Yorkshire.
Copyright © Press Association 2009