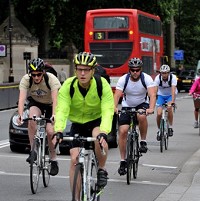 Children are being put off cycling and walking by the dangers involved, a new safety survey suggests.
The findings suggest t hat drivers who use excessive speed deter young people from urban streets.
Motorists driving too fast was a major deterrent among the 1,301 11-17-year-olds currently attending college or secondary school, polled by Brake.
The safety charity found more than four in 10 (41%) blamed their reluctance on this; while 47% cited parental fears, 38% held a lack safe routes responsible and 37% want extra paths, cycle paths and pavements.
Brake cited official statistics from 2013, which found that 504 12-15-year-old walkers were killed or sustained severe injuries, along with 186 cyclists from this age range.
The charity called on the Government to rush through a walking and cycling investment plan to make the roads safer for non-drivers.
Julie Townsend, deputy chief executive of Brake, said it is "shocking" that so many youngsters are being dissuaded from cycling and walking because of safety fears.
Copyright Press Association 2015