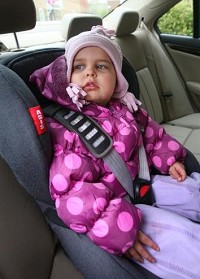 The rules on child car seat use are confusing more than a third of car-owning parents, a report for Which? magazine has revealed.
Any child up to 135cm (4ft 5in) tall or aged under 12 must use an appropriate child car seat according to the law, but a survey by Which? found that only 38% of parents who owned a car and had a child aged 15 or under fully understood the rules.
Almost two in five (18%) of those questioned said that a child aged eight (or 110cm tall) no longer needed a child car seat, and 20% said a child aged 10 (or 120cm) no longer needed a seat.
Richard Headland, editor of Which? Car, said: "It doesn't matter if they're 10 months or 10 years old, children need to use child car seats until they're taller than 135cm or they reach their 12th birthday. Kids are at risk if they're not properly secured in a seat appropriate to their weight and height.
"Unfortunately, there's still huge confusion amongst parents about who should be using a child car seat, and not enough advice on how to fit seats properly."
Copyright © Press Association 2009