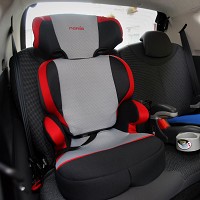 Undercover research has revealed an "unacceptable" 90% of child car seat providers are not fitting them properly in vehicles.
Which? found mistakes that could be extremely costly were being made and even the high street name outlet that came out best fails at over 65% of fittings.
Workers at 42 shops in the UK were asked by the researchers to fit two car seats of different types - only four put both in the vehicle correctly.
There are key questions to ask before fitting a seat and 13 of the outlets fail to ask any.
Richard Headland, editor of Which?, says it's not acceptable for fitting services to be so "shockingly" bad and it could be leaving children in seats that won't protect them sufficiently in an accident.
The mistakes included not folding out the support leg under the seat, and a seat left loose because the seatbelt wasn't used correctly by the fitter.
There are a "catalogue" of errors in the Mamas & Papas and Babies R Us fittings. They both fail 11 out of 12 chances they have to do it right, while Kiddicare racks up nine failed tests.
Halfords, Mothercare and John Lewis do better but Which? says it's still not good enough. John Lewis does best in the big-name tests but still fails two-thirds of them, Halfords gets just two right and Mothercare goes one better than that.
Away from the big brands, independent shops do better and one of them has the best overall score, seven of the 12 fittings done correctly.
But the undercover experts say staff at those shops could have given more wide-ranging advice. In general, which? says staff don't spend long enough showing customers how the seats work and putting them in vehicles.
They say some staff claim the seats were defective but the Which? staff think it was "clear" the failings were usually due to the need for more training.
Copyright Press Association 2014