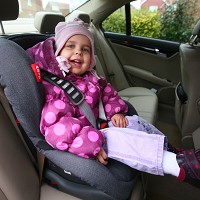 How to use a child's car seat is the subject of new advice from driver training specialist IAM Drive & Survive's head of training, Simon Elstow.
In the Department of Transport's annual road casualties report for Great Britain, released last month, there were 309 cases of children below the age of 12 being killed or seriously injured while they were passengers in a car in 2011.
"The key to keeping your child safe on the road is vigilance and information.
Knowing which seat to use and when to use it is just as important as knowing the right way to fit it," said Simon Elstow.
The safety expert offered the following tips:
-Be in charge: take responsibility for the safety of your children from their birth to young adulthood.
Having proper car insurance is one aspect of being a responsible parent.
-Children under the age of three must have appropriate child restraints if they are in the front of a vehicle. Adult belts are prohibited.
-Children from the age of three to 11 must use a child restraint appropriate for their age and size.
An adult belt must be used if one is not available.
-If there is an active passenger airbag in the front of the vehicle, never place a rear-facing baby seat in the front.
The safest way to secure a child seat in a car is by using an Isofix seat mount, which are common in today's cars and easy to use.
Most child seats are designed to be used in these extra-secure mounts.
Copyright © Press Association 2012