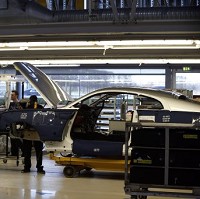 The SMMT has played down January's slip in car production.
The number of cars produced last month fell by 1.2% compared with January 2013. But Mike Hawes, chief executive of the Society of Motor Manufacturers and Traders says this was a result of new models being made in UK factories. Some 127,385 cars were made in UK plants in January, but Mr Hawes says the slight dip is a result of major investment to bring new models and technology to factories.
He said that production was slower with new models and the numbers would increase as the year progresses.
The SMMT also released figures showing the increasing value of the Asian market to UK manufacturers.
Last year the UK exported some 220,682 cars to Asia, compared to just 60,804 in 2009. After Europe, the region is now the largest export market for the industry, with almost a fifth (18.5%) of all cars produced in UK factories ending up in Asia.
China remains one of the major markets, with exports increasing five-fold in five years. Some 137,410 UK-built cars were sent to China last year, an increase of over 14.5% compared with the previous year.
Only the UK bought more British-built cars than China last year.
Copyright Press Association 2015